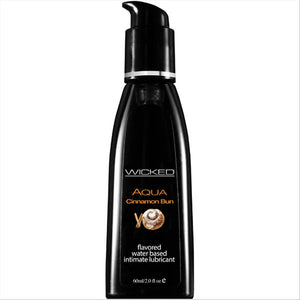 SKU: 61366
Cinnamon Bun Flavoured Water Based Lubricant - 60 ml (2 oz) Bottle
Take a big juicy bite! Kissable, Lickable and Delicious, Wicked AQUA Cinnamon Bun adds subtle natural flavours to enhance oral pleasures. Light & silky, this water based formula is the perfect sensual combination of an elegant lubricant and a flavour sensation.
Incredibly luxurious and silky smooth, this unique blend of spa quality ingredients, absorbs completely with no residue, AQUA is designed to heighten sensation & intensify ecstasy.
Being Wicked has never felt so good. 
 Enhanced with Olive Leaf Extract
 Paraben–Free 
 Latex Friendly 
 Long Lasting 
 Never Sticky
 Vegan 
 No Animal By-products or testing
To Use: Apply to area(s) where lubrication is desired. Cleans away easily with water.
Cautions: If irritation or discomfort occurs, discontinue use and consult a physician. This product is not intended for use as a contraceptive. Avoid contact with eyes. Keep out of reach of children.
Ingredients:
Water,
Propylene Glycol,
Glycerin,
Tocopheryl Acetate,
Aloe Barbadensis (Aloe) Leaf Juice,
Olea Europaea (Olive) Leaf Extract,
Cellulose Gum,
Hydroxyethylcellulose,
Tetrasodium EDTA, Citric Acid,
Sodium Benzoate,
Potassium Sorbate