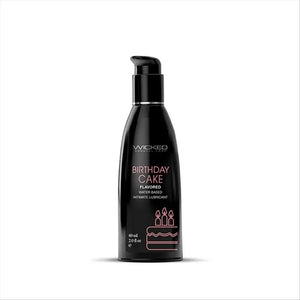 SKU: 61355
Cake Flavoured Water Based Lubricant - 60 ml (2 oz) Bottle
Turn any day into a celebration with Birthday Cake water-based lube, an instant party in your mouth. Never sticky, no aftertaste.
We make playtime even tastier. You're Welcome!
Incredibly luxurious and silky smooth, this unique blend of spa quality ingredients, absorbs completely with no residue, AQUA is designed to heighten sensation & intensify ecstasy.
Being Wicked has never felt so good. 
 Enhanced with Olive Leaf Extract
 Paraben–Free 
 Latex Friendly 
 Long Lasting 
 Never Sticky
 Vegan 
 No Animal By-products or testing
To Use: Apply to area(s) where lubrication is desired. Cleans away easily with water.
Cautions: If irritation or discomfort occurs, discontinue use and consult a physician. This product is not intended for use as a contraceptive. Avoid contact with eyes. Keep out of reach of children.
Ingredients:
Water,
Propylene Glycol,
Glycerin,
Tocopheryl Acetate,
Aloe Barbadensis (Aloe) Leaf Juice,
Olea Europaea (Olive) Leaf Extract,
Cellulose Gum,
Hydroxyethylcellulose,
Tetrasodium EDTA, Citric Acid,
Sodium Benzoate,
Potassium Sorbate