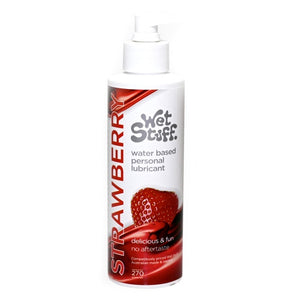 SKU: 20508
WET STUFF STRAWBERRY LUBRICANT WATER-BASED 270GRAMS
Strawberry Wet Stuff is a delightfully textured and flavoured waterbased personal lubricant.  Now even longer lasting, this lubricant is based on the the Wet Stuff Gold formulation.
What ever your favourite love play is, this lube will enhance it with the taste of strawberries and is initially mildly warming to sensitive skin.
Strawberry is favourite taste and with this improved formulation the fun will go on longer. Like all Gel Works lubes it is designed for all playful uses.
    270g pump bottle
? compatible with condoms
? hypoallergenic
? pH balanced
? easily and quickly changes to the pH of the body fluid
? edible
? sugar-free
Wet Stuff contains no perfumes, colourings or oils and won't harm or stain fabrics.
Only use as directed. If irritation occurs, discontinue use; if it persists, consult a doctor. Safe for use with all condoms and latex products,
For fabrics, soak in water only, then rinse well before a normal wash. Sponge out of carpet with plain water. Very slippery if spilled; clean up immediately. Read the full label before use.