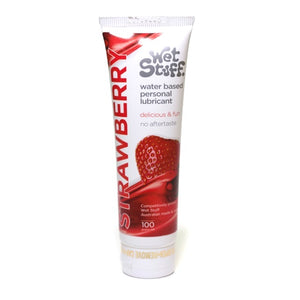 SKU: 31640
WET STUFF STRAWBERRY LUBRICANT 100G TUBE
Delicious and fun!
Wet Stuff Strawberry is a delicious, edible, clear, silky lubricant to enhance your intimate pleasure. Now even longer lasting, it's initially mildly warming to sensitive skin. Strawberry is a favourite taste and with this improved formulation the fun will go on longer.
? compatible with condoms
? hypoallergenic
? pH balanced
? easily and quickly changes to the pH of the body fluid
? edible
? sugar-free
Wet Stuff contains no perfumes, colourings or oils and won't harm or stain fabrics.
Only use as directed. If irritation occurs, discontinue use; if it persists, consult a doctor. Safe for use with all condoms and latex products,
For fabrics, soak in water only, then rinse well before a normal wash. Sponge out of carpet with plain water. Very slippery if spilled; clean up immediately. Read the full label before use.