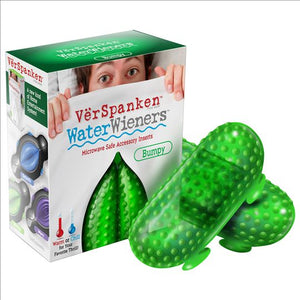 SKU: 47515
VERSPANKEN WATERWIENERS BUMPY
Water Wieners™ are the ultimate accessory for your VerSpanken™. The most unique and amazing feature slipping into a warm Water Wiener™ is like slipping into a warm bath. They can be warmed or chilled for your favourite thrill. As if temperature play isn't enough of a reason to add Water Wieners™ to your VerSpanken™ home entertainment system, they also provide a tighter fit and firmer feel than the Foam Wieners™ included with your VerSpanken™. With Water Wieners™, the mix and match possibilities are endless. Try warm and chilled or smooth and wavy. Available in three interchangeable textures so you can mix and match to your favourite feel and temperature. It's a new experience every time and completely customisable because it's all about you! Made of 100% recyclable materials, Water Wieners™, like all Big Teaze Toys, contain no latex, phthalates, lead or heavy metals. Patent(s) pending.
Length - 12.5 cm (4.92 inches)
Width – 5 cm (1.96 inches)
Please note: These are the replacement insert only and does not including a housing.