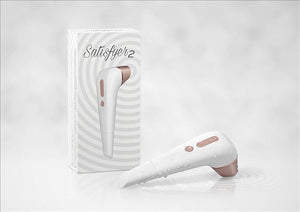 SKU: 54299
SATISFYER 2 NEXT GENERATION 
White Touch-Free Clitoral Stimulator. The elegant and popular Satisfyer 2 cannot be missing from any toiletry bag. The ergonomic shape and its battery-powered feature make it a contact-free indulgence artist, equipped with innovative pressure wave technology.
The twin operating elements allows fast control over 11 intensive programs. FUNCTIONS/USE: Press the toy's button for about 2 seconds to turn the Satisfyer 2 on.
This will activate the toy's gentlest massage setting. Gently move your labia aside, to expose your clitoris. Place the toy's head onto your clitoris, so that your clitoris is situated comfortably inside the hollow.
Once you've found the ideal position, you won't need to move the toy again. Tip: Using a water-based lubricant such as Wicked Aqua will make using the toy even more pleasurable.
By using the Satisfyer 2 under water (e.g. under the shower or in the bathtub) you can achieve even more intense pulsations.
The Satisfyer 2 is switched on using the little, round button and it starts on the lowest level. You can adjust the vibration intensity using "+" and "-". Every time you press "+", the intensity will increase by one level.
The intensity is reduced again by pressing "-". There are 11 levels of intensity you can choose from. To turn the Satisfyer 2 off, briefly press the round button.
CLEANING: The Satisfyer 2 is waterproof and very easy to clean. Even the nozzle can be cleaned easily, using a cotton bud.
For ideal cleaning results, we recommend using a special erotic toy cleaner, such as Wicked Foam N Fresh which is available in specialist retail stores.
Apply the cleaner, briefly allow it to take effect and then dry your erotic toy using a soft, lint-free and clean cloth. Regular cleaning ensures the longevity of your erotic toy.
Non-contact master of seduction in ergonomic design
FEATURES:
•  Showerproof
•  11 settings
•  Whisper mode
•  Easy to Clean
•  Skin-friendly silicone
•  2 AAA batteries
•  Manufacturer warranty 10yrs