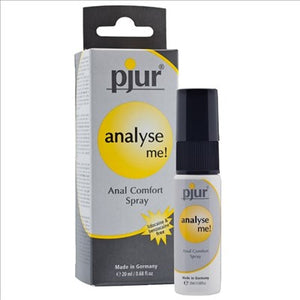 SKU: 19863
PJUR ANALYSE ME! ANAL COMFORT SPRAY 20ML 
An exceptional anal desensitising product. Analyse Me counteracts hypersensitivity and helps increase your ultimate pleasure. Only a few sprays needed! Lidocaine and benzocaine free.
Pjur analyse me! Anal Comfort Spray is an exceptional care product applied in the anal area that helps the skin to relax for enjoyable anal intercourse. High grade panthenol and Aloe Vera make the skin and tissue more elastic and counteract oversensitivity in the anal area – with no
APPLICATON TIPS:
Only a few sprays needed per application
Lidocaine or benzocaine free
Relaxation spray for anal sex
With high-grade panthenol and Aloe
Desensitising effect
INGREDIENTS (INCL) :
Propylene Glycol
Laureth-4
Aloe Barbadensis Leaf Juice
Alcohol Denat
Pantheon
Menthe Piperita Oil
Lidocaine & Benzocaine Free
Made in Germany
0.68 Fl.oz 20mL
APPLICATON: Only a few sprays needed per application. Spray the product first on your forearm to test for any incompatibility. Do not use in case of an allergic reaction. Do not spray on open wounds.