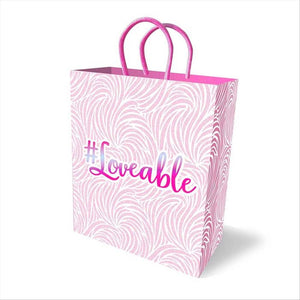 SKU: 60533
Have a sweet gift for your sweetheart? No better way to present it than in a #Loveable gift bag.
This beautiful pale pink print gift bag looks expensive and feels amazing just like your sweetie. Our gift bags are high quality bags made of thick, sturdy cardstock paper with elegant woven handles.
This 25 cm gift bag has a white background with pale pink flocking and matching metallic stamped #loveable on front and back.
This suggestive bag is as fun to give as it is to receive.