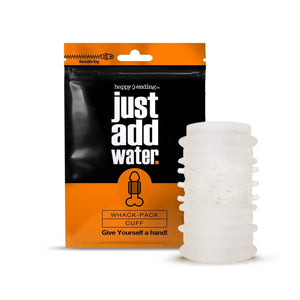 SKU: 63558
Happy Ending Just Add Water Whack Pack, Cuff
Are you searching for a simple, durable, and comfortable Whack?? If yes then this Water Activated Whack Pack can be a perfect product for you. It's stretchy self lubricating design makes whacking off easy, even if you've never used a masturbation sleeve before.
This Masturbator will help you to get more pleasure than ever before.
This Water Activated Whack Pack is designed for convenience so that you can use it in the water effortlessly. Of course, you can also use it in the shower, bathtub, or pool.
Great for travel. The Masturbation Sleeve can give you the maximum pleasure! The sleeve is easy to clean, stretchy, and fulfilling. Delivering you a happy ending! It is a squishy soft small cuff sleeve, super stretchy, reversible, and semi-translucent.
One size fits all. The Masturbator is made of soft, harmless, and comfortable elastomer. It is body-safe phthalate-free and designed with reversible texture. It comes with resealable storage bag.