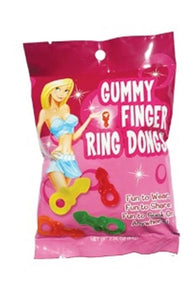 SKU: 61748
These Gummy Finger Ring Dongs are a great way for the girls to be able to wear their pecker candy on their finger.
Each package comes with approximately 8 large gummy penis rings; a fun way to have some edible tasty bachelorette party supplies at your 'finger tips'!
Each package comes with assorted flavors and colors, sure to get a good laugh from all the girls!!
Ingredients
glucose syrup
sugar
sorbitol
pectin
water
gelatin (beef)
citric acid
malic acid
artificial flavours
sodium citrate
carnauba wax
artificial colours
FD&C yellow 5
FD&C yellow 6
FD&C blue 1
FD&C red 40