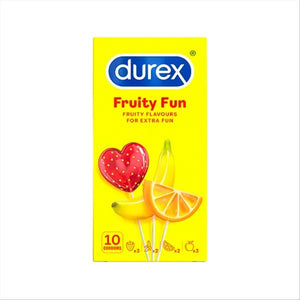 SKU: 61285
Durex Fruity Fun is a selection of banana, orange, strawberry and apple flavoured condoms.
Love all of the flavours in the fruit bowl? With Durex Fruity Fun condoms you can choose from four fruity flavours to match your mood at any moment. With tasty strawberry, apple, orange and banana condoms (featuring fruit flavoured silicone lube), you can mix up the flavours for every encounter.
10 pack of includes:
3 x Strawberry condoms
3 X Apple condoms
2 x Orange condoms
2 x Banana condoms
Features
Large size (nominal width: 53mm),
Latex condoms with fruit flavoured silicone lube
Straight walled, teat ended smooth shape
Durex quality: 100% electronically tested with 5 more quality tests carried out on every batch;
Dermatologically tested too.
Four fruity flavours (strawberry, apple, orange and banana) to choose from
Remember no method of contraception works 100% against pregnancy, HIV or sexually transmitted infections. It's good to be in the know, so read the info inside, especially if you are using condoms for anal or oral sex.