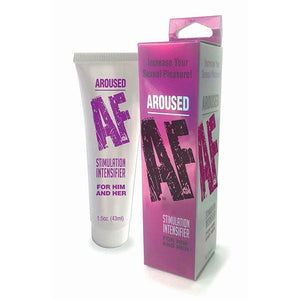 SKU: 60517
Aroused AF stimulation intensifier is specially formulated for both him and her.
Aroused AF will intensify sexual enjoyment for that next-level sexual play. This cream willcreate a tingling sensation to heighten sexual play.
Make sure your next romantic interlude includes Aroused AF for sex that is FUN AF!
Instructions: Apply a generous amount amount of Aroused AF cream and gently massage. A warm tingling sensation will take effect in 3-5 minutes.
Ingredients
Water
Organic Aloe Barbadensis Leaf juice
Glycerine
Prolatum Oil
Stearyl Alcohol
Stearic Acid
Cetyl Alcohol
Glyceryl Stearate
Polysorbate-60
Magnesium Aluminium Silicate
Ceteth-20
Methyl Salicylate
Menthol
Sodium Benzoate
Potassium Sorbate
Citric Acid
Tocopheryl Acetate
Sorbitol
Allantoin
Propylparaben
Methylparaben
Discontinue use if rash or irritation occur.