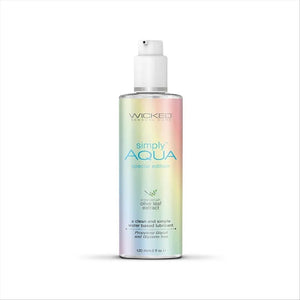 SKU: 61367
Water Based Lubricant - 120 ml (4 oz) Bottle
Heighten sensation and increase pleasure with simply™ Aqua Special Edition, a clean, water-based lubricant that's slick, sensual, and never sticky. Free of Glycerin, Propylene Glycol, and Parabens, simply™ Aqua Special Edition is also vegan, cruelty-free, and enhanced with our signature antioxidant-rich Olive Leaf Extract for its moisturising and bio-static properties. When you want a clean lube… do it simply. 
 Glycerin,
 Propylene Glycol, and Paraben Free 
 Enhanced with Olive Leaf Extract 
 Safe for use with all toy materials 
 Great for all types of play 
 Latex friendly 
 Long-lasting 
 Reactivated with moisture
- pH Balanced 
 Vegan 
 no animal by-products or animal testing
#loveissimplylove
Directions: Apply to area(s) where lubrication is desired. Cleans away easily with mild soap and water
Ingredients:
Water,
Propanediol ( corn),
Cellulose gum (cottonseed ),
Hydroxyethylcellulose (tree bark),
Disodium EDTA,
Olea Europaea (olive) leaf extract,
Stevia Rebaudiana (stevia) Leaf/Stem Extract,
Citric Acid,
Sodium Benzoate,
Potassium Sorbate
Buying simply™ Aqua Special Edition helps support LGBTQ+ communities year-round.