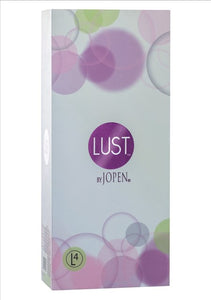 SKU: 50686
LUST BY JOPEN L4
Our Lust™ by Jopen® - L4 is a supremely sensual bendable personal massager.
Capable of bending and flexing gently for multi-directional positioning, this massager offers you all the lust and passion you desire in one beautiful, sleek shape.
And it's not all about the shape and smooth, delicious virtually seamless Satin Finish silicone. No, it's about the power and performance too.
Flexes and Bends for Multi-Directional Positioning
Intense Incremental speed Control (L1 – L4.5)
Premium Silicone Maintains and Retains Body Heat
Unscented, Non-Porous, Durable and Hypoallergenic
Satin Finish and Virtually Seamless
Instant On/Off Button
Security Travel Lock
Premium Rechargeable Lithium Ion Battery
Travel Lock Feature
100% Waterproof
Easy to Clean
Complete Charge in 2.5 Hours
Massager Will Run For 30 Minutes on High Speed, 3 Hours on Low Speed
One Year Warranty
Length - 10 cm (3.93 inches)
Width - 2.5 cm (0.98 inches)
USB Charger included