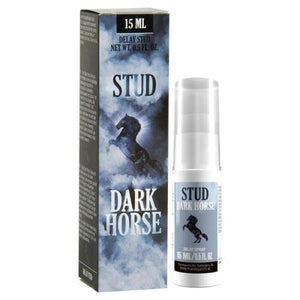 SKU: 61945
Stud Dark Horse Spray is the method of dealing directly and effectively with premature ejaculation. Dark Horse is a delay spray with anesthetic effect. Makes the penis feel numb, so erection lasts longer. Also increases blood flow.
How does it work? Aloe barbadensis, panax ginseng and menthol increase blood flow. Menthol also has local aenestetic effect.
Directions for use: Spray 1 to 3 times directly onto the penis. Allow the effect to unfold for 15 minutes.
The spray has now soaked into the skin of the penis thoroughly and can develop its local effect.
For external use only.
Keep out of reach of children.
Store in a cool, dark place.
Ingredients
alcohol denat.
aqua
glycerin
menthol
phenoxyethanol
lactic acid
ethylhexylglycerin
pentylene glycol
sorbitol
sodium lactate
serene
urea
aloe barbadensis leaf juice
sodium chloride
allantoin